Worlingworth wall collapse: Manslaughter charges dropped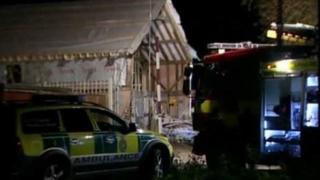 Manslaughter charges have been dropped in the case of two men who were killed when a wall collapsed on them at a Suffolk building site.
Matthew Skeet, 19, and Kevin Ruffles, 57, died at Worlingworth in 2010.
Structural engineer Barry Potts, 64, of Freston, near Ipswich, was accused of their manslaughter, but the prosecution will not proceed with those charges.
Potts has pleaded guilty to a health and safety offence and is due to be sentenced next month.
The men were digging a trench on a farm at Worlingworth, near Eye, when a barn wall gave way on 21 October 2010.
During a plea hearing at Southwark Crown Court, building company Elliston Steady & Hawes, of Great Blakenham, admitted one health and safety offence but denied a second charge.
The prosecution said it would not pursue the second health and safety charge, which will remain on file.
The sentencing of Potts and the building company is due to take place at Ipswich Crown Court on 24 January.