Christopher Taylor ordered to pay £100k over escort scam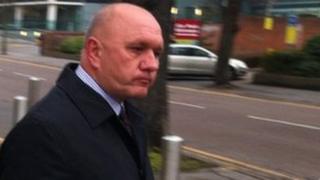 A former detective who was jailed for his part in a £5.7m escort scam has been ordered to forfeit £100,000.
Christopher Taylor, 58, of Wakefield, West Yorkshire, was given three-and-a-half years for money laundering.
He was one of six jailed in July after Suffolk Trading Standards found bogus debt elimination and escort firms had conned more than 17,000 people.
He was ordered to pay a confiscation order of £41,800 and £58,200 in court costs at Ipswich Crown Court.
The trial in July heard Toni Muldoon, 66, was the "architect" of the £5.7m scam but others had played "vital roles without which these schemes could not have succeeded".
Muldoon, who was based in Spain, ran bogus companies which duped people in the UK into paying for non-existent escort work or debt elimination scams.
He was jailed for seven-and-a-half years after he admitted conspiracy to defraud.
The trial heard Taylor was surprised when £100,000 had been taken from his own business account and claimed he did not know it was being used to launder money from escort services.
When sentencing him, Judge Rupert Overbury said Taylor sacrificed his "reputation and good name" for money.
It is understood confiscation order hearings are to yet to take place for Muldoon and the other defendants.
Bradley Rogers, 29, from Malaga, was jailed for two years and 10 months after being found guilty of money laundering.
Mark Bell, 41, from Westerfield, near Ipswich, Colin Samuels, 62, of Redgrave, Suffolk, and Geraldine French, 60, from Spain, were each found guilty of two counts of conspiracy to defraud.
Bell was sentenced to six years and six months, Samuels to five years and six months and French to six years and five months.
All had denied the charges.
Jeffrey Owens, 64, of Colyford, Devon, had previously admitted money laundering and was given a 12-month sentence, suspended for two years.