Felixstowe Townsend Thoresen ferry disaster memorial unveiled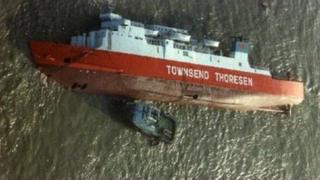 A memorial has been unveiled to those who died in a ferry disaster off the Suffolk coast 31 years ago.
Six people were killed when the European Gateway, which was leaving Felixstowe, capsized after colliding with a cargo ferry on 19 December 1982.
The Townsend Thoresen ship was left lying on a sandbank about a mile out of port and was refloated in 1983.
A campaign to create a memorial stone in the town began a year ago on the 30th anniversary of the incident.
The ferry collided at about 22:50 GMT with the Speedlink Vanguard - a British Rail Sealink ferry heading into port.
The memorial stone has been set in the ground at Wolsey Gardens above the town hall.
'Abandon ship'
Roger Baker, chairman of the Felixstowe Society, said: "For months people could see the capsized ferry from the promenade and it was a constant reminder of the tragedy.
"I'm quite surprised because 31 years is quite a long time, but I think we should be grateful for the people who've campaigned and contributed to the memorial and it's better late than never."
Mike Deacon, the former mayor of Felixstowe who commissioned the memorial a year ago, said: "When the community came together it was easy to sort and I'm absolutely delighted."
The European Gateway had about 70 crew, lorry drivers and other passengers on board.
Simon Dowers was a crew member and was at the unveiling ceremony.
He said: "I was in my bunk reading and heard the hooters and once you get to four or five blasts you know the next one is 'abandon ship' so I got up and made my way to my boat station.
"I ended up jumping in the water, but other people managed to climb round her as she capsized and ended up sitting on top of her as she was laying on the sandbank."