HMP Blundeston: Last inmates leave ahead of closure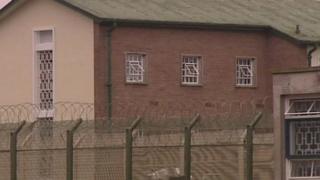 The last prisoners have left a Suffolk jail, three months after the government announced its closure.
HMP Blundeston, a category C training prison near Lowestoft, has been transferring its 500 male inmates to other jails since then - mainly to other prisons in the region.
The Prison Officers Association said it had "reservations" about the capacity of the prison system.
The government said it had "more than enough" space for all inmates.
HMP Blundeston was one of four prisons to be closed by the government following the announcement in September.
Glyn Travis, a Prison Officers Association spokesman, said: "We still have serious reservations over the capacity of the prison estate.
"The population has risen week on week since the announcement.
"Whilst the Christmas trend will see a drop in the population, the first three months of 2014 will no doubt bring difficulties and demanding times on the service.
"We can only hope that prisoners are located in safe and secure prisons and the public is protected."
The government said the closure decisions had been made following a thorough assessment of the needs of the prison system.
Chris Grayling, justice secretary, said: "We have more than enough space within our prisons to accommodate all offenders and claims otherwise are misleading.
"By 2015 this government will have increased the adult male prison capacity so that we have more places than we inherited from the previous government and we will continue to modernise the prison estate so that it delivers best value for the taxpayer."