Suffolk flooding: Lowestoft hostel homeless found new home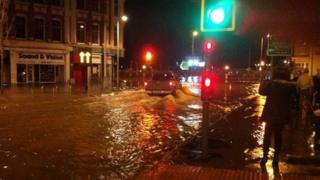 People who were made homeless again after their hostel was flooded in Suffolk are to move to a new home.
The Fyffe Centre, in Belvedere Road, Lowestoft, was filled with 5ft (1.5m) of water after a tidal surge on 6 December.
Access Community Trust moved its 27 residents to a single room of camp beds at its day centre in Commercial Road.
The trust said it had now found new hostel accommodation for them on the High Street.
'Devastating'
Melissa Wright, 32, had been at the Fyffe Centre over a two-year period and had been dealing with alcohol problems.
She said: "We were instructed to move out when the flooding hit, and although I grabbed a bag of clothes, I lost other clothing and a DVD player which I had to leave behind.
"It was heartbreaking and devastating to see the flood as I had settled in there and come so far.
"The day centre and staff have been brilliant, but it's going to be great to move up to the new temporary hostel and get a single room again - and we look forward to going back to the Fyffe Centre eventually."
Emma Ratzer, chief executive of the trust, said: "The pressure has been immense with staff trying to secure new accommodation and rescue our property for some very upset individuals who feel like they've lost everything for a second time around.
"Because our day centre has been turned in to a temporary hostel, it hasn't been able to function as normal and we usually see 200-500 people a week there."
The trust said the Fyffe Centre would need to dry out over Christmas and could reopen in March.
Renting the High Street building to turn it in to a temporary hostel would be covered by insurance, the charity said.