Ed Sheeran and Taylor Swift shock fans at Framlingham pub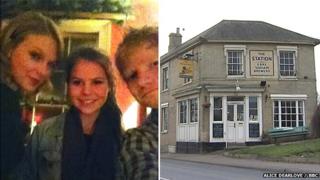 A rural Suffolk pub was at the centre of a Twitter frenzy after two of the world's biggest music stars were pictured there.
Ed Sheeran and Taylor Swift were spotted by a fan at The Station in Framlingham, Suffolk, on Monday and the word quickly spread online.
Bar manager Chelsea Lydford said the pub was then thronging with teenagers trying to peer through the window.
Sheeran, originally from the town, has spent the year touring with Swift.
Ms Lydford said: "He often pops in for dinner with his family or friends - it's very relaxed and he just enjoys the atmosphere. He signed his recording contract and had his 21st birthday here.
"A lot of people know him here, so it's quite nice for him to come in and there are not swarms of people around him.
'Lovely evening'
"[Monday night] was slightly different - we had lots of people coming in because they'd heard from social media that they were here. There were young people coming in, sitting in the garden and trying to see through the window.
"From what I hear, she [Swift] had a lovely evening. It was nice for her to see where he used to hang out."
Alice Dearlove managed to get a picture with the pair and jokingly mocked her friends on Twitter, saying: "yeah i don't think i can be friends with you guys anymore #toofamous".
Ed Sheeran rose to fame after being backed in his early career by BBC Introducing teams in Suffolk and Norfolk.
After the UK success of his debut album titled "+", he headed to the USA where he became friends with country star Swift.
They recorded the song Everything Has Changed for Swift's album Red and have toured together throughout much of 2013.
Both artists have been nominated for Grammys in January, with Sheeran up for best new artist and Swift for album of the year.