Lowestoft businesses and homes flood clear-up 'to take months'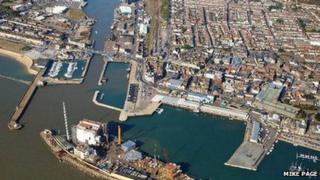 A clear-up at a Suffolk port flooded by the worst tidal surge in the North Sea for 60 years will take months to complete, a council believes.
Lowestoft port is open to the sea and strong north westerly winds combined with a spring tide caused a surge which flooded several roads along the quays.
Homes and businesses on Bevan Street East, St John's Road and Marine Parade were left covered with a thick mud.
Waveney Council said it was helping people in the area get back to normal.
Teams working on regeneration projects in Waveney had been redirected to help businesses and households in the most seriously affected areas.
"It's going to be a long job. Some householders have been moved to alternative accommodation and guidance is being offered to help businesses get operational again," a spokesman said.
'Stark' findings
Some sea defences had been damaged by the surge and also by episodes of bad weather during the autumn.
"These defences must be repaired and made safe for the beginning of the holiday season at Easter," the spokesman said.
"Unlike Norfolk, no properties near the coast were battered but a lot of sea defences need repair.
"We suffer weather events all year so we work to keep sea defences in good order but this event is not going to change our policy on protecting the coast."
He added they were working in partnership with the Environment Agency.
A suggestion was made in November, before the surge, to build a barrier across the outer harbour costing about £18m.
A study commissioned by the local authority found the chances of local flooding had increased to once every 20 years.
Council leader Colin Law has said the findings of the study were "stark" and a number of funding options were being considered.
The flood gate would aim to prevent the sea entering the port and flooding the quays and adjacent roads.