Hadleigh Tesco plan: 26-year store battle ends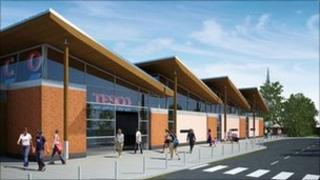 A 26-year supermarket battle in a small Suffolk town has ended after Tesco abandoned its plans for a new store.
Plans for a supermarket in Hadleigh were first rejected in 1987 and Tesco's most recent application was turned down in September.
Babergh district councillors voted seven to six to reject the plans.
A Tesco spokesperson said: "We respect the democratic planning process and have decided not to appeal against the committee's decision."
Planning officers at Babergh had recommended councillors should grant planning permission.
'Puts it to bed'
"We were disappointed by the refusal of our proposed store at the Brett Works site, particularly as the planning officers recommended the application for approval," the Tesco spokesperson said.
"We know a Tesco store would have created new investment and jobs for the area.
"We own much of the property and are currently considering alternative options for the site."
An application from a developer for permission for an unnamed supermarket in the town was rejected in 1987.
Tesco's first application for planning permission was rejected in 2000.
Tony Addison, president of Hadleigh Chamber of Commerce, said he "absolutely welcomed" Tesco's statement.
"It finally puts it to bed once and for all," he said.
Mr Addison said the campaign against the supermarket had been like a "military operation" and required a "lot of effort from a lot of people".
He said concerns included increased traffic and the impact on the High Street.