Suffolk flooding: Shingle Street sea wall repairs underway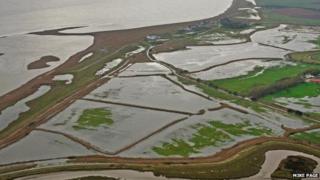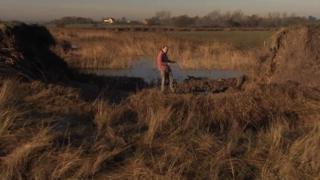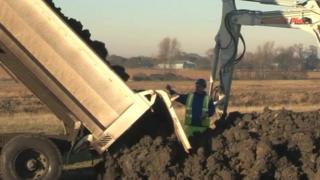 Emergency repairs are being carried out to restore a sea wall which collapsed as a Suffolk coastal hamlet was cut off during last week's flooding.
Shingle Street near Woodbridge was left with its one road under water following the North Sea surge tides on Friday.
A section of one of its protective earth banks disappeared after the sea breached it.
The Environment Agency said Shingle Street was one of 22 sea defence breaches in Suffolk.
Some residents were critical that the bank, which was built after the 1953 floods, had not been maintained.
Brian Johnson, a local resident, said: "Banks slump and lose height over time and that would have had quite an effect, because there was at least 120m (130yds) of over-topping."
'Unprecedented' event
The Environment Agency said gaps in defences would be filled at 22 locations including Shingle Street, Snape, Waldringfield and Ipswich.
Karen Thomas, coastal manager for the agency, said: "We have to accept we've had an unprecedented tidal event, greater than the 1953 floods and, while most of the walls around Suffolk have held up, there are locations where these breaches have occurred.
"We're prioritising to get as many breaches plugged where people and property are at risk.
"We have spent over £250m in the past 10 years between the Humber and Thames on these walls."
The agency said once the breaches had been plugged, long-term assessments would be made and the cost of repairs across Norfolk and Suffolk was likely to run to millions of pounds.