Tim Yeo forces ballot of South Suffolk Conservatives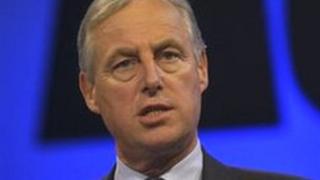 Tim Yeo MP has demanded a ballot of Conservatives after the local party dropped him as its parliamentary candidate for 2015.
The South Suffolk Conservative Association's executive council voted to "not re-adopt" Mr Yeo in a secret ballot last month.
Mr Yeo has called for a ballot of the association's 600 members next year.
He said: "Many of them have expressed support for me and want to vote on whether I should be their candidate."
The executive council decision came a month after Mr Yeo, who has been MP since 1983, was cleared of breaking Parliamentary lobbying rules.
He was then reinstated as chairman of the Commons Energy & Climate Change Committee.
'Binding'
Mr Yeo said he had "consulted widely" with local party members.
"Under the rules of the Conservative Party a postal ballot, whose outcome will be binding, can be held for this purpose," he said.
"Whatever their decision is, I will continue to work hard to secure a Conservative victory in South Suffolk as I have done ever since I was first chosen as the candidate for this constituency."
Mr Yeo said arrangements for the ballot were being made and voting papers would be sent out on 20 January.
The executive committee has not commented on its decision to drop Mr Yeo.