Jobs go at UCS after it fails to enrol enough students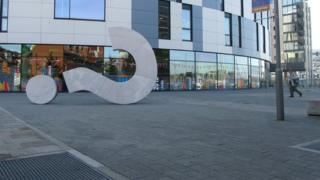 A university that has failed to attract enough students could cut about 20 jobs.
About 4,500 people are enrolled at University Campus Suffolk (UCS), which has its headquarters in Ipswich and centres around the county as well as in Great Yarmouth, Norfolk.
But the university had hoped to have 7,500 students by 2015.
Chief executive Richard Lister said: "There is a significant gap between what we earn and what we spend."
In an email to staff and students, Mr Lister said income for the university, which needs to save £2m from its budget, was "overwhelmingly from student fees".
Most courses at UCS, which opened in 2007, cost £8,300 a year.
'Over-managed'
A review will look to address the balance of those courses which are oversubscribed and those which have not attracted as many students as hoped.
Mr Lister said UCS employed 430 people, and half of the savings would come from senior management posts.
"For an institution of our size we are over-managed," he said.
Mr Lister said the review of courses and staffing would enable UCS to "compete and thrive in the student marketplace".
He remained confident that there was a desire for people to study at UCS, which saw a 6% rise in applications in 2013 compared with the previous year.
"If we have the right courses, attract and retain higher numbers of students, and offer an excellent student experience we will grow and as a consequence be able to recruit more staff and invest in our infrastructure," Mr Lister said.
UCS was formed as a partnership between the University of East Anglia and the University of Essex.
Mr Lister said it should become an independent body "within a couple of years", and therefore able to offer its own degrees.
This, he said, would help it attract more students.