Ipswich Town fans ask club to reveal extent of its debts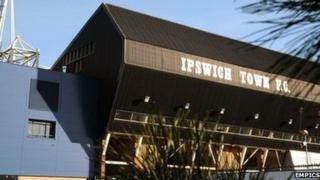 A football fans' group has called on Ipswich Town to state how much money it owes to local businesses after the club admitted to cash flow problems.
The East Anglian Daily Times revealed the club emailed a player's agent, asking for more time to pay invoices.
Independent supporters' trust Ipswich Town 1st urged the club to make a public statement on its finances.
The club said it was experiencing "cash flow delays" but remained on a "very sound financial footing."
An Ipswich Town spokesman confirmed the wording of the email to the unnamed player's agent, which said: "We are having to readdress our next six months' cash flow due to being let down by a debtor and are requesting assistance from you in this regard."
Alasdair Ross, chairman of Ipswich Town 1st, said many local people had "bitter memories" of money owed to businesses such as florists and caterers, and organisations including St John Ambulance, when the club went into administration in 2003.
"The local community, including those who lost money, stood by the club during the administration period, and we want to know that this faith is being rewarded by the club honouring its debts to local businesses now," he said.
In a statement, Ian Milne, the club's joint managing director said: "We endeavour to meet the payment terms of the companies and individuals we work with but at times during the year, just like with any business, there are delays in cash flow.
"This is income coming into us as well as expenditure going out.
"I'd like to reiterate, though, that the football club is on very sound financial footing with the support of the owner, who remains fully committed to seeing Ipswich Town achieve his and the club's goal of reaching the Premier League."