Lowestoft flood victim brands council support 'disgusting'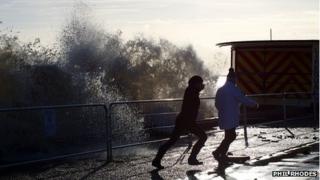 A woman who "lost everything" when her home flooded during last week's storm has labelled the local council's support as "disgusting".
Amy Judge says she will have to leave her rented home in St John's Road, Lowestoft, because of the damage.
She said Waveney District Council should have given out sandbags and helped clean up.
But, the council's leader said hundreds of residents were helped and Ms Judge's comments were "totally inappropriate".
"We've had nothing but praise by residents about the support we gave them in the rest centres etc - we took them home, got taxis etc," Colin Law said.
"It's one out of many hundreds who felt they were more than well catered for."
'No-one called'
Mr Law said the council had been "very stretched" by the flooding in Lowestoft town centre and elsewhere in the area.
He said he would raise the issue of sandbags next week, when the response to the tidal surge is discussed and analysed.
However, Ms Judge said she expected more from the council.
"I had to source my own sandbags to at least try and prevent some water, not that it did anything," she said.
"They're not willing to help with a skip or lorry to come and move all the stuff that is damaged to the tip.
"I think it's disgusting that we pay our council tax every month and we've not had one bit of help.
"No-one has rung us, no-one has offered help."
Ms Judge said she would have to leave her home for three months.
Malcolm Bullock, whose sister's home in St John's Road was flooded, also said there had been no support offered by the council.
'Forgotten about'
"I had to contact my sister, who was totally devastated to find out that she could be flooded and had not had any warning," Mr Bullock said.
"At 5 o'clock at night she finally got a letter through the door telling her she might have to be evacuated."
Mr Bullock, who travelled from his East Midlands home to Lowestoft on Friday, said the floods have left the house without electricity or hot water.
"We've not had the council down here," he said. "The only people who have turned up are the electricity and water board, who have been here until 12 o'clock at night helping us."
He said the people affected by flooding in Lowestoft were getting "no help whatsoever".
"To me, this place has been forgotten," he said.
However Waveney MP Peter Aldous, said the flooding in Lowestoft highlighted the need for improved flood defences.
"The emergency organisations, the councils, did a sterling job," Mr Aldous said. "When you take into account it was a bigger storm surge than 1953 we've done relatively well.
"The but is, in Lowestoft, the area around Station Square, either side of the Bascule Bridge, where there are a lot of small businesses, have been particularly hard hit."