Suffolk tidal surge: 'Major incident' at an end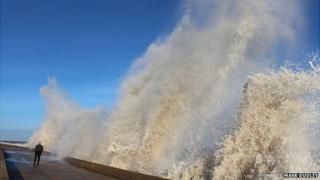 Three roads remain blocked by flooding but police have declared an end to a "major incident" in Suffolk.
Lowestoft, Felixstowe, Southwold and Aldeburgh were among the worst-affected places along the east coast of England.
The Environment Agency said Thursday night's tidal surge was greater than the one that caused fatal floods in 1953.
A clean-up operation was under way in affected communities but police said the worst was over.
Assistant Chief Constable David Skevington, of Suffolk police, said: "The Suffolk Resilience Forum met again this morning to review the situation and were content that with no further threat from flooding, an end could be called to the major incident declared on Thursday morning.
"Tide levels will continue to be monitored but intelligence from the Environment Agency shows that future high tides will be significantly lower that those seen on Thursday and Friday."
Waveney MP Peter Aldous said he would call for new flood defences in Lowestoft in light of the serious flooding that hit the town.
Shops were flooded along London Road North and many nearby homes also affected.
Road closures remain in place on the A12 at Blythburgh, the B1127 at Reydon and the A1069 at Snape.