Tidal surge causes flooding in Suffolk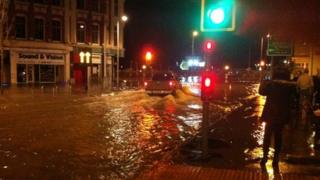 People whose homes have been threatened with flooding are taking refuge in shelters set up on the Suffolk coast.
About 1,000 homes and businesses in the county were under threat by gale force winds and a tidal surge.
Fifteen severe flood warnings were in force.
Suffolk Police said at 19:30 GMT that earlier in the day officers "mistakenly" knocked on doors in Woodbridge and Melton and told people to evacuate their homes.
Only two properties on the Sutton side of the Deben needed to be evacuated.
'Nasty weather'
A tide of more than 6ft (1.82m) above the normal maximum was expected after midnight, caused by severe northerly winds, the Environment Agency said.
Matthew Philpott, from the agency, said: "There's some nasty weather in the North Sea at the moment with gusts of gale-force north-westerly winds coupled with spring floods and a large tidal surge.
"They are all combining to give quite a risk of flooding."
The first surges were expected on the north Suffolk coast at about midnight with vulnerable places around Lowestoft and Southwold most at risk.
Police in Suffolk were contacting owners of vulnerable properties, with some "precautionary" evacuations being recommended.
The authorities have set up official rest centres for people who have left their homes at Waterlane Leisure Centre, Lowestoft; Kessingland Sports & Social Centre; Carlton Colville Village Hall; Southwold Sports Pavilion; St Felix School, Southwold; Leiston Leisure Centre, Brackenbury Sports Centre, Felixstowe and Maidenhall Sports Centre, Ipswich.
"Precautionary evacuation of properties in these areas is being recommended," David Skevington, Assistant Chief Constable of Suffolk, said.
"We anticipate a number of roads will be closed due to flooding."
Train services have been disrupted due to problems with overhead cables between Norwich and Diss in Norfolk and between Manningtree and Colchester and between Great Bentley and Weeley in Essex.
Train operator Greater Anglia said it was putting on bus replacement services where possible.
The landlord of the Harbour Inn on the River Blyth at Southwold evacuated his pub, which has a history of flooding.
Nick Attfield, who lives there as well, said: "This isn't something we can cope with and we're going to get lorries down, empty the pub and get out of here.
"It's predicted to be about 50cm (20in) higher than it was in 2007 when we were welly-deep and it caused quite a lot of damage with the main problem being sewage bubbling back in.
"All areas of the pub will be under water today - we'll let the tide do what it needs to do and then will deal with the consequences in a couple of days' time."