Bawdsey radar station museum project needs £1.6m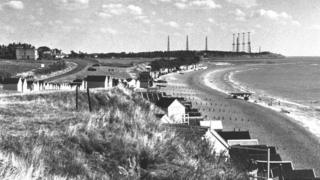 The world's first operational radar station, based on the Suffolk coast, needs investment if it can remain open to the public, campaigners say.
The Bawdsey Radar Trust is making a lottery fund bid to get the £1.6m it said it needed to turn a transmitter block into a permanent visitor centre.
The trust said the building, which was vacated by the RAF in 1991, is solid, but water is getting in.
The block is on the English Heritage Buildings At Risk register.
It was built in 1938 as part of RAF Bawdsey near Felixstowe and it is acknowledged as playing a major role in Britain's aerial battle against Germany in World War Two.
It is estimated that 4,000 personnel served at RAF Bawdsey 1938-45.
'Weather damage'
The Bawdsey Radar Trust was set up in 2003 to try and preserve the block and the building received national coverage when it was a candidate to win funding in the BBC's Restoration competition, but it lost to a medieval grammar school in Birmingham.
The trust has already had an £80,000 grant from the Heritage Lottery Fund.
Mary Wain, chair of the trust, said: "The block is constantly subjected to weather damage and it's going to get worse unless we get this project going.
"Our vision is to turn this in to a visitor centre which tells the story of the vital role this building and Bawdsey played in developing radar and helping win the war - technology we take for granted today.
"The first stage is the conservation of the block which would get it off the Buildings At Risk register."
The block is currently opened to the public for 12 days a year, but only in the summer as the trust said it was not suitable for opening in the winter.
The RAF Bawdsey Transmitter Block is featured on BBC One's Restoring England's Heritage programme at 19:30 GMT on Thursday, 5 December (East only).