Beyton village votes to restore green geese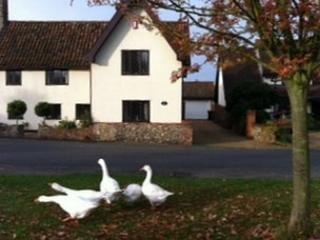 A Suffolk village has voted to restore the population of geese which has lived on its green for about 40 years.
At their peak, there were about 30 at Beyton, near Bury St Edmunds, but numbers declined to one breeding pair after road deaths.
Some villagers expressed concerns that restoring the population would mean more would be killed on the roads.
The parish council organised a vote of 500 residents and said 75% were in favour of boosting goose numbers.
Goose sponsors
Numbers had dropped to four earlier in the year, but two were killed on the road.
The remaining pair was able to breed, but the parish said the male was then killed by a dog.
Roger Wyartt, council vice chairman, said: "The geese are a symbol for the village and they feature on the village sign, so people felt this was important.
"We've had about 25 people say they want to sponsor new geese, so restoring the size of the population won't come out of parish funds."
Three goslings hatched this year and they were being cared for locally through the winter.
The council said it still planned to introduced speed indicator signs for traffic and would introduce signs warning drivers to watch out for geese on the roads surrounding the green.