Lowestoft Christmas Day seaside swim saved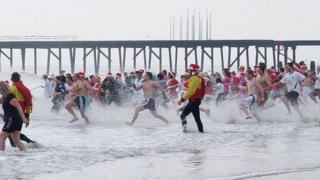 A Christmas Day dip, which had been cancelled this year after the regular organisers pulled out, has been saved.
The dash into the sea at Lowestoft, Suffolk, has been running for 35 years, but the two men who usually run it said they had not been able to find anyone to take it over.
Sentinel, which runs the town's leisure centres, has stepped in to organise it.
Stuart Everett, managing director of Sentinel, said: "We felt a genuine determination to step in and save it."
The dip, which raises money for local charities, takes place on Christmas Day morning and has attracted up to 600 swimmers and 2,000 spectators in the past.
'Real pride'
Mr Everett said: "We've got a short period between now and Christmas, but we're aiming for a seamless transition with the regular group of volunteers.
"We do still need people to commit to the swim via the website with a view to ensuring it retains a regular place in the calendar."
Lawrence Chapman and Mark Attenburrow, the previous organisers, announced last week that work commitments meant they no longer felt they could organise the swim.
Mr Chapman said: "We're delighted it will continue.
"The irony is that, although I didn't have time to organise it anymore, my 15-year-old daughter Elizabeth is keen to do the swim this year, so I'll probably be joining her."
Councillor Stephen Ardley, deputy leader of Waveney District Council, said: "The Christmas Day swim brings people together, shows real pride in the town and it is a genuine boost to have it back on the calendar."