Luke Durbin: Missing teenager's identity used in 'computer-related fraud'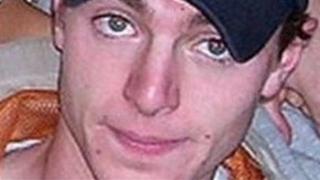 The identity of a Suffolk teenager was used in a "computer-related fraud" about a year after his disappearance, a detective has revealed.
In an appeal on BBC Crimewatch, the detective leading the search for Luke Durbin said his identity was used in London in August 2007.
Mr Durbin, 19, went missing in May 2006 after a night out in Ipswich.
His mother, Nicki, from Hollesley, near Woodbridge, said his disappearance was out of character.
Det Supt John Brocklebank, who is leading the investigation, said: "There's a chance he may be in some sort of debt having got in with the wrong crowd.
'Found direction'
"In August 2007, somebody has used his name and date of birth in a computer-related fraud. That e-mail address was used and it was in the Brixton area of London. Who used that?"
Mr Brocklebank said officers feared Luke might have been "held against his will" and "unlawfully killed".
Speaking on the show, Ms Durbin said: "At the point Luke went missing I really thought he had found direction in life.
"He wanted to travel, he just seemed driven.
"My imagination has become my best friend and my worst enemy. No parent should lose their child, but to lose your child to an unknown entity just eats me up."
Officers have said they have a clear idea of Mr Durbin's movements after he left the Zest nightclub, up until his last confirmed sighting in Dog's Head Street in Ipswich at 04:00 BST on 12 May 2006.
Police said CCTV images of him at the railway station, a taxi rank and crossing the road towards the cattle market bus station suggest he was trying to get home.
Two men were arrested earlier this year but later released.