East Suffolk trains disrupted for five hours as signaller ill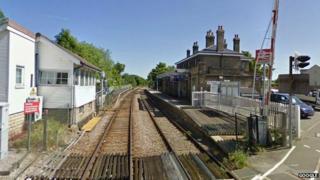 Rail services were cancelled for five hours after a signal box operator fell ill, Network Rail has confirmed.
The East Suffolk line between Ipswich and Lowestoft had no services from 09:00 to 14:00 GMT on Saturday, until a replacement operator was found.
Ben Gummer, MP for Ipswich, said he was surprised there was no cover, while a passenger group claimed it was down to a lack of staff generally.
Network Rail apologised and said no-one suitably qualified was available.
The member of staff works at the signal box at Saxmundham.
'Signallers centralised'
Conservative Mr Gummer said: "Most people would be surprised by the fact there was no suitable cover.
"It underlines the need to move forward with the modernisation of infrastructure across the region."
Network Rail said all of its signalling operations for the region would move to Romford, in 2015.
"The signaller was suddenly taken ill and unfortunately no one was available at short notice who was qualified to cover," said a spokesman.
"We apologise to passengers for the disruption this caused.
"When operational, [Romford] will stop situations like this arising as our signallers will be in one place and be able to cover all areas of the network as and when required."
Trevor Garrod, chairman of the East Suffolk Travellers Association, said: "It's a lack of staff and one would expect Network Rail would have a system in place to provide a replacement more quickly than that.
"We don't know exactly what Network Rail is proposing to do at Romford, but one of the dangers of centralising signal box operations, or anything, is that people won't necessarily have the local knowledge and we remain to be convinced it will be in the interests of passengers."