Ipswich kidnap and torture trial: Victim recalls 'evil' attack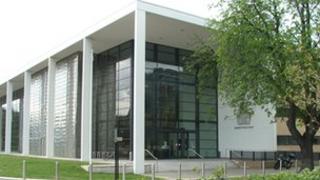 A man who was allegedly tied up, blindfolded and burnt with a hot iron has told a jury his attackers "did evil to me".
John Ugoani told Ipswich Crown Court he was tortured at a flat in the town in March after arranging to meet a drug dealer to buy cannabis.
The court heard he was robbed and needed hospital treatment for burns.
Four men deny charges including kidnap, robbery and assault.
Jurors were told that Mr Ugoani contacted a dealer known as 'Mr D' on 3 March and drove to meet him in Bell Close near Stoke Bridge the following evening.
He was threatened with a knife in his car and taken to a flat on nearby Purplett Street, the court heard.
Mr Ugoani said he managed to pull the blindfold off and saw his attackers, who robbed him of a watch, necklace and bag, before he was let go.
The prosecution said Mr Ugoani's home was also burgled and jewellery and electrical goods were stolen. Jurors heard he had hot water poured on his body twice.
Gibril Seray-Wurie, 31, of Lone Barn Court in Ipswich, Malachi Cavalho, 27, of no fixed abode, Ishmael O'Connor, 24, of Nacton Crescent in Ipswich and Ricky Greenwood, 23, formerly of Ipswich but now of Redwell Place, Daventry all deny kidnap, robbery and assault.
Mr Seray-Wurie, Mr Cavalho and Mr O'Connor deny burglary and false imprisonment, while Mr Greenwood admitted those charges.
Mr Seray-Wurie further denies possessing a knife.
The prosecution said 'Mr D' was actually Mr O'Connor.
When questioned by Mr Cavalho's defence counsel, Chris Paxton, about video statements he gave to police Mr Ugoani, who is originally from Nigeria, said he could not remember everything.
Mr Paxton asked: "Would you agree you are unclear about what happened and who was there?"
Mr Ugoani replied "No, I am sure" and "They did evil to me".
The trial continues.