Easton Bavents: Clifftop homeowners offered money by council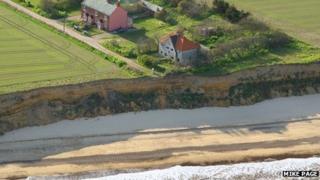 The owners of homes on an eroding clifftop in Suffolk are being offered up to £25,000 each to help them move.
The funding from Waveney District Council is for nine properties at Easton Bavents, near Southwold.
The council said it would consult the property owners and confirm a final offer next month.
But Peter Boggis, who has campaigned on their behalf and even built his own coastal defences, said the amount being offered was "totally inadequate".
'Trying to assist'
The money is being offered from the council's £1.5m Pathfinder scheme to the owners of six homes on Easton Lane, an artist's studio and two vacant plots.
It could include contributions towards the cost of buying a new plot of land, building a new home and professional fees.
Mr Boggis lives at Easton Bavents but has not been offered the money as his home is not deemed close enough to the clifftop.
"For those who are actually going to lose the sites that they own, it's totally inadequate in every way," he said.
"A sensible figure was being looked for: a sum of money that would buy a pleasant site with services on and cover the cost of building an equivalent to affordable housing."
David Savill, Pathfinder officer for the council, said: "The scheme was never about offering to wholly pay for new plots of land and homes.
"It's about trying to assist people, who might have expected the shoreline to be protected in the past, to adapt to the effects of coastal erosion.
"It reflects the nature of our district and the receding coastline."
The Pathfinder scheme identified potential privately-owned plots further inland in the district, but it would be up to those wanting to move to negotiate and buy them and then get planning permission to build.
Those who bought their clifftop homes before 1998 would be offered up to £15,000 towards a new plot or building a new house and up to a further £10,000 for professional fees.
People who bought their homes later would be offered up to £10,000 for fees and demolition costs under the scheme.