Bury St Edmunds wolf statue aims to promote king but not distract motorists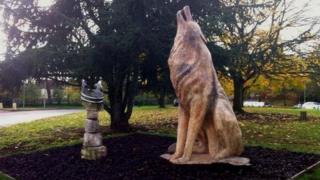 A statue of a wolf has been unveiled in Bury St Edmunds - designed so it should not cause a hazard to drivers.
The 7ft (2m) wood carving depicts the animal that, according to legend, looked after the head of King Edmund after he was killed in 869.
It has been erected on the Southgate roundabout.
Melanie Lesser, who commissioned it, said: "It's fantastic, but slightly off-set so he's not right in your eye and shouldn't distract drivers."
The wolf is a central figure of the legend surrounding the death of King Edmund, who ruled East Anglia from AD 855 to 869 and was made a saint for refusing to renounce his Christian faith during the Danish invasion.
The story goes that after being killed with arrows and decapitated in Suffolk, the king's body was found but his head was missing.
Supporters heard the wolf call them and they found him guarding the king's head, which was then reunited with his body.
'A bit gruesome'
The new statue was carved using chainsaws by Halesworth-based wood sculptor Ben Loughrill.
He said: "It's come out really well - better than what I thought it would actually.
"Edmund's head was considered, but we thought it might be a bit gruesome so there's a metal crown to go with it."
The statue was commissioned by Bury In Bloom with support from local councils.
Ms Lesser, from Bury In Bloom, said: "It's at one of the entrances to the town and should get people asking why there is a wolf and crown there - sparking their interest in the history and legend of St Edmund who was buried in the town.
"We had to get a licence to site it there, so Suffolk County Council's highways department have made sure it's been put in a safe place for motorists."