Karen Hales murder: Daughter's anguish 20 years on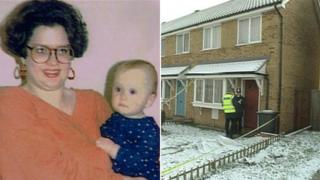 It was a shocking crime believed to have been committed in front of a small girl. Emily Hales is thought to have witnessed her mother being stabbed to death. But she was only 18 months old and has no recollection of what happened. Exactly 20 years on from the murder, she tells BBC News of her hope that the killer will one day be caught.
The body of 21-year-old shop assistant Karen Hales was found by her parents at her home in Ipswich, Suffolk, on 21 November 1993.
She had been stabbed and then set on fire. Sitting nearby was Emily.
Police believe she would have seen what happened, and at the time it prompted one of the biggest murder investigations ever seen in Suffolk.
But despite numerous inquiries and many leads, no-one has ever been brought to justice. A £50,000 reward co-ordinated by the then Evening Star newspaper in 2005 failed to provide the breakthrough.
For many years, detectives clung to the remote hope that the person thought to have been the sole witness to the crime might offer a potential clue.
But first they had to wait for years to pass.
Emily is now 21 - the same age at which her mother was murdered in 1993. But at that time, her age was still being counted in months.
It was not until she was approaching the end of primary school that her "nan", Karen's mother Geraldine Hales, told her the basic details of what had happened.
In the years that followed, Emily has been determined to find out the full facts.
"Nan said she first told me about it when I was eight or nine but without the full detail and not the gruesome part," said Emily.
'Can't remember'
"I know everything there is to know now. I wanted to find out what happened. I want to know more - who did it? Why?"
Despite regularly reviewing the case - and a flurry of calls in 2005 when the reward was put forward - police have never been able to provide the answers.
During a visit last week to Geraldine's home, in a village on the outskirts of Ipswich, police told the family they were no further forward with the inquiry.
Emily said: "I wish I could remember what happened as obviously that would help. I honestly can't remember a thing.
"A police officer asked me recently if I had ever been interviewed. I haven't but there's nothing I could say that would help."
Although happy to talk about what happened to her mother, Emily does not want to be photographed as an adult.
She said she could not face having to talk about the murder in her job as a hairdresser if more people recognised her.
Emily, who has a long-term boyfriend, has had to come to terms with growing up without a mother.
"I obviously didn't really know her because I was only 18 months old," she said. "I've got photos and stuff but it's obviously not the same.
"I remember her by the photos. It's hard but I have to try to move on.
'Truly horrendous'
"There's never a day that goes by that I don't think about her.
"I want to get married one day and that's when you want your mum there - to do the girly things like going shopping and looking for a dress. I'll miss out on that."
Geraldine, 68, said she feels the police investigation is at "square one".
"For 20 years, it has just tormented me," she said. "It torments because of what that person did but to then leave an 18-month-old… I can't understand it."
Police believe Karen opened the door of her home, in Lavenham Road, Ipswich, and was therefore likely to have known her killer.
Det Ch Insp Andy Smith, from the joint Norfolk and Suffolk Major Investigation Team, said: "This was an absolutely horrendous crime, not least because Karen was callously killed in the presence of her 18-month-old daughter and because her parents were left to discover her body in truly horrific circumstances.
"I believe that there is a very real likelihood that Karen knew the person responsible. There was no sign of forced entry to the house, there was heavy snow on the ground but there were no footprints leaving the rear of the property.
"Two kitchen knives were found to be missing from the house, these could well have been used to kill Karen, but they have never been found. Also Karen's purse containing a small amount of money was missing.
"The motive for Karen's murder is unclear but it is likely that someone close to the killer, a friend or relative may have noticed unusual behaviour after the event."