Redlingfield B-17 Flying Fortress crash marked by US relatives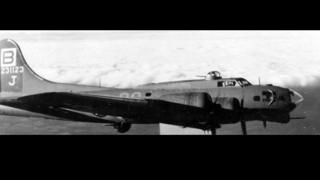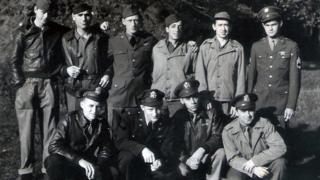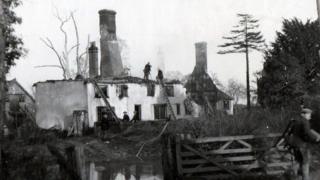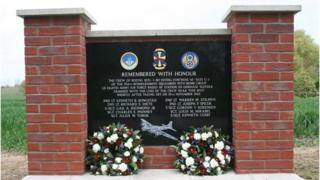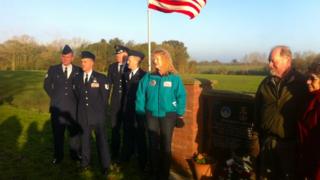 Relatives of US airmen have been in Suffolk at the site where their bomber crashed during World War 2.
A B-17 Flying Fortress fell out of the sky at Redlingfield on 19 November 1943, killing the ten men on board.
A memorial was built in 2010 and it is the first time relatives have come over from the US for the annual service.
The 95th Bomb Group plane had taken off from the base at nearby Horham heading for Germany. It was never discovered why it crashed.
The B-17's bombs carried on exploding and the fires destroyed Green Farm, but no civilians were killed.
Mike Ager, from the 95th Bomb Group Heritage Association and chairman of Redlingfield Parish Meeting, said: "This year is a bit special as not only is it the 70th anniversary, it's the first time relatives have joined us."
'Ultimate sacrifice'
Marcia Moyer, niece of one of the co-pilots 2nd Lt Warren Franklin Mansfield Strawn, said: "I'm emotional and overwhelmed at what this community has done to remember my uncle and the rest of the boys.
"No-one should be forgotten who have given their lives for the cause of freedom.
"Even though I didn't know my uncle, as I was born after the war, I'm very proud of what he did and he paid the ultimate sacrifice."
Enid Wheeler was 13-years-old when she witnessed the crash in 1943, and she still lives in Suffolk.
She said: "We usually cycled across the airfield to Eye Grammar School every morning, but we were told not to because about 30 planes were taking off.
"We just knew this plane wasn't going to get up with the others and we watched it crash about two fields away and the bombs kept going off and we didn't make it to school, we just went home."
Serving personnel from the US Air Force based at RAF Mildenhall and RAF Lakenheath attended the anniversary ceremony along with the Royal British Legion, villagers and people involved with the 95th Bomb Group museum at Horham.