Nuclear waste transfer plan at Sizewell, Bradwell and Dungeness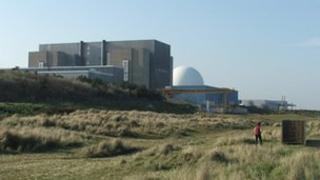 Campaigners are warning against moving more nuclear waste by road and rail as power stations are decommissioned.
The government Nuclear Decommissioning Authority (NDA) said it would save £45m by moving waste for storage between Sizewell A in Suffolk, Bradwell in Essex and Dungeness A in Kent.
The authority said there would be 185 lorry movements during the process.
A Suffolk Stakeholder Group advisor said moving any nuclear waste was "dangerous" and should be avoided.
The NDA's proposal was for intermediate level waste (ILW) to be moved from Dungeness for interim storage at Bradwell and Sizewell, while the wait continues for the government to build its first special underground storage facility for all the UK's nuclear waste.
Fuel element debris produced by Bradwell and Sizewell A would be moved to Dungeness for treatment and then returned as ILW.
'Terrorist threats'
Pete Wilkinson, advisor to the Sizewell Stakeholder Group which acts as a liaison group between the local community and nuclear power industry, said: "The group believes every plant should look after its own waste.
"The NDA has got to balance their savings against the danger of transferring waste around the country, which is a no-no.
"It's highly radioactive and dangerous in terms of road accidents and terrorist threats."
The NDA said money would be saved by not having to build extra storage or treatment facilities at every nuclear plant.
Adrian Simper, NDA strategy director, said: "The preliminary options would minimise new construction, make use of existing assets on a regional basis and reduce costs while offering environmental benefits and maintaining the highest safety standards."
The NDA said it would be holding a series of public events in Leiston, Saxmundham and Aldeburgh in November and December and would make a decision about its preferred options in 2014.