Simpsons Toy Shop in Stowmarket to close after 100 years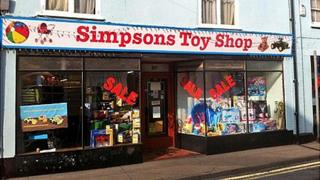 A family-run toy shop in business for more than 100 years is to close for the last time on Christmas Eve.
Simpsons Toy Shop in Stowmarket, Suffolk, has been struggling for years, said the owner, who said they "kept it going because of the emotional ties".
The shop is owned by Ernest Baker, 73. His son, Philip, said they had received an offer for the stock but wanted to sell it to as a going concern.
Five staff have already been made redundant.
Ernest Baker's wife, Coral, was the last of the Simpson line. Her great grandfather opened the shop in the 1890s.
Mrs Baker ran the shop until her death in 1998, when Ernest Baker took over the business.
Philip Baker, 39, who is helping to run the shop with his sister, Sarah, 37, said competition from large supermarkets and the growth in internet shopping had played a major role in the toy shop's demise.
"Now the shop just can't compete but we kept it going because of the emotional ties to the business," he added.
"We've been pumping money in over the last four or five years to keep it afloat but the accountant finally slapped my father's wrists and said put on your business head and cut your emotional ties which is why we've made the decision - enough is enough."
Michael Durrant, a local historian and author who remembers the shop from the mid-1960s, said the loss of the store was "a great shame".
"A lot of the shops in that area of the town are off the beaten track unfortunately and they just can't compete with the big retailers.
"It's a great shame it's shutting down, but that's the economic times."