Ipswich Tower Ramparts bus station to reopen at weekend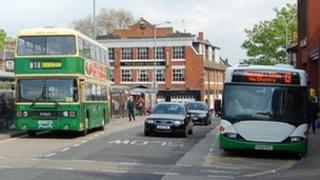 Ipswich's Tower Ramparts bus station is to reopen on Saturday after refurbishment.
It closed in September as part of the town's £21m Travel Ipswich project and was originally due to reopen on Friday.
The Old Cattle Market bus station reopened last month after a two-month delay.
Suffolk County Council said road works on Spring Road, Warwick Road, Museum Street and Elm Street would be completed on Friday.
Councillor Graham Newman, cabinet member for transport, said: "I'm very happy we've succeeded in opening the newly refurbished Tower Ramparts bus station in time for the Christmas shopping period.
"We've achieved a lot in a short period of time, which inevitably has meant that roads in Ipswich have been under some increased strain.
"However, I firmly believe that those living, visiting and working in the town will begin to see the benefits of the works completed so far."