Suffolk/Essex pylon plan put on hold by National Grid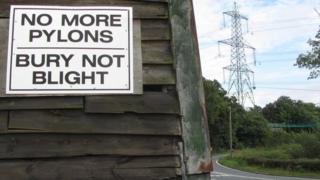 Campaigners have welcomed National Grid's decision to put its plan for new electricity pylons on the Suffolk/Essex border on hold.
The company planned to build a new 400,000 volt connection covering 17 miles (28km) by 2017.
It said the connection, which would have included five miles (8km) underground, would not be needed until the early 2020s now.
Local groups opposed to the pylons said it did not solve the long-term issue.
The proposed connection would replace the existing, smaller pylons between Bramford near Ipswich and Twinstead in Essex.
National Grid said new onshore and offshore generation projects in the region would not be producing as much electricity by 2017 as originally predicted.
'Issue unresolved'
Brian Smethurst, the company's senior project manager, said: "This connection will be paid for through people's electricity bills so we must ensure we only build equipment when it is needed.
"We will continue to liaise with the generators to ensure this connection is delivered when it is required."
Campaigners in the Stour Valley and Dedham Vale area on the Essex/Suffolk border wanted the connection to be completely underground.
John Foster, from the Essex & Suffolk Coalition of Amenity Groups, said: "We're pleased and it indicates the process was premature and the case was not properly supported.
"It leaves the overall issue of how the grid will be developed in this beautiful countryside unresolved.
"It's uncertain what will be required in the future in terms of power supply, so we will continue to campaign to ensure power lines can be put underground as much as possible."