Beccles seal dies before fishhook operation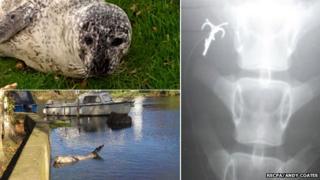 A seal that was found on a Suffolk river quayside 10 miles (16km) from the coast has died after a fishhook was found in its stomach.
The seal swam up the River Waveney to Beccles on strong tides last week and spent two days on the grass bank.
The RSPCA took the "lethargic" seal to its centre at East Winch in Norfolk.
An X-ray revealed the animal needed an operation but he died under anaesthetic as vets prepared him for the operation.
The seal, who was named Whole Bean by RSPCA staff, is thought to have swum inland seeking shelter, but the strong currents brought him a lot further than seals are usually known to swim.
'Incredibly sad'
The RSPCA said it believed an angler had accidentally "caught" the seal while fishing, leading to the animal swallowing the hook.
It said he was underweight, lethargic and disorientated and staff had been feeding him up since 6 November in the hope he would gain enough strength for the operation.
Alison Charles, centre manager, said: "It was incredibly sad for us that this seal did not make it - we really did all we could to save him.
"Surgery always comes with risks for animals, but it was necessary in this instance as this hook had to be removed from his stomach.
"The seal was clearly unwell and our inspectors did the right thing by bringing him in to be checked over and looked after by us."
Earlier this year, a wounded seal was found at Felixstowe and the RSPCA successfully treated it at East Winch before releasing it into the River Nene near the sea.