Paul Mason: Ipswich's former 'fattest man' to move to US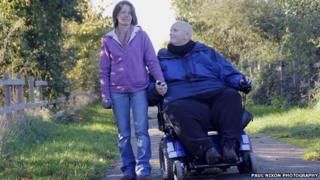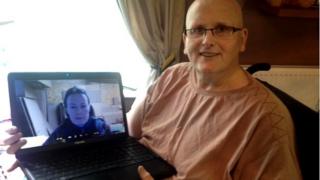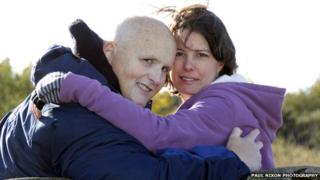 A man once claimed to be the world's fattest is preparing to move to the US to live with the woman he met online.
Paul Mason, 52, saw his weight drop from 70 stone (440kg) to 22 stone (140kg) after gastric band surgery.
A plastic surgeon in the US has offered to operate on him to remove his folds of excess skin.
Mr Mason, from Ipswich, met Rebecca Mountain on the internet and the pair plan to find a home together in her home state of Massachusetts.
He had gastric bypass surgery in 2010, but the NHS has said his weight needed to stabilise before he could be considered for further operations in the UK to remove the excess skin.
'Lovely feeling'
New York-based surgeon Dr Jennifer Capla has said she is willing to donate her time, but Mr Mason has got to raise an estimated £16,000 to pay for the costs of his first operation.
He said: "We're confident we'll raise the money, so we're planning for me to move to the USA in the new year.
"It's a lovely feeling to be able to do this - it's my first proper relationship since the early 1980s."
Ms Mountain, 40, who lives in Orange, runs a manufacturing business.
She began talking to Mr Mason online earlier this year and arrived in the UK last week to meet him for the first time.
Jail term
She said: "I first became aware of his story in 2009 and I felt a connection, not romantic at the time, but a feeling that he was genuine.
"I saw an online video update earlier this year and it has blossomed into something unexpected - boyfriend and girlfriend.
"It's hard to explain how we got to know each other and when I finally did get to hug him at the airport it was really great."
Mr Mason said his weight-gain began in 1985 when a relationship came to an end.
It spiralled and he served a prison sentence for fraud, relating to his work at the Royal Mail sorting office in Ipswich.
He also had his house repossessed after re-mortgaging it following the death of his mother in order to fund his eating habit.
Mr Mason, who is 6ft 4ins (1.93m) tall, said his target weight was 14 stone (90kg).
"I've dealt with my food addiction issues and we're both ready to move on," he said.
Ms Mountain is due to fly back to the US on Saturday, but plans to return to the UK for a Christmas visit.