Ofsted criticises 'unacceptable' Suffolk school standards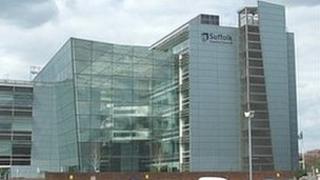 Ofsted has criticised educational attainment in Suffolk, saying standards in schools are "unacceptable".
A letter to the county council follows inspections of 33 schools in September, prompted by concerns about overall education standards.
Ofsted said there had been no overall increase in the number of good or outstanding schools in Suffolk.
Suffolk County Council said recent Key Stage 2 and GCSE results showed it was "making progress".
The council said its Raising The Bar programme had been designed to boost achievement in schools, but Ofsted found it was "regarded with varying degrees of credibility" by head teachers.
The initiative was introduced in 2012 to try and improve standards, as figures revealed the county performed worse than comparable local education authorities (LEAs).
The latest league tables showed that, out of 150 LEAS, Suffolk was in the bottom 10 for GCSE results and third from bottom for primary school performance.
'Inadequate'
Ofsted said in its inspection of 33 schools in September, nearly a fifth were judged to be inadequate.
Sean Harford, Ofsted regional director, said: "This is unacceptable and now means that Suffolk has a higher proportion of pupils educated in inadequate schools than both the regional and national averages.
"The lack of progress of previously 'satisfactory' schools means that pupils in these schools still do not have access to a good quality of education.
"This will be of great concern to parents, carers and pupils alike."
Ofsted said that the number of schools that had improved to 'good' or 'better' had gone up, but not at the pace as the rest of the country.
Inspectors found there were examples of effective intervention by the LEA, but it was "equally clear" some intervention had not been early enough.
Heads not approached
Last month, Suffolk County Council said it was going to approve a £2.4m spending package as part of its Raising the Bar school improvement policy.
Ofsted said it also carried out a survey of head teachers of good or outstanding schools and its findings showed that, although they were aware of Raising The Bar, opinion was split on its credibility.
Some head teachers said they had not been approached about playing a role in supporting other schools.
Graham White, National Union of Teachers branch secretary for Suffolk, said: "Teaching standards are OK.
"However, there are always going to be some that are really good and some that are less good.
"We've got some outstanding teachers, heads and advisors in Suffolk, but we need to use them to much better effect."
Ben Gummer, Conservative MP for Ipswich, said it was a "very helpful intervention" by Ofsted.
"The same system of targets exists across the country and it has not stopped other areas improving more quickly than Suffolk," he said.
"There are some exceptional teachers and good practice needs to be spread to the rest and that has to happen now rather than spread over a couple of years."
A Suffolk County Council spokesperson said: "Improving educational attainment in Suffolk is the county council's top priority.
"We're focused on making sure every child in Suffolk has the opportunity to fulfil their potential, which includes going to a good or outstanding school.
"Through our Raising the Bar programme, we're working with and challenging schools to drive up educational attainment.
"The latest Key Stage 2 and GCSE results show that Suffolk is making progress in the direction."