Martlesham's Music on the Green festival ends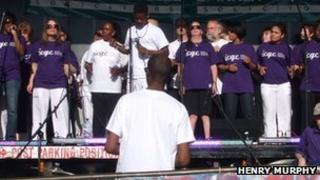 Organisers of an annual music festival in Suffolk say it has become "too big" to continue.
Music on the Green at Martlesham Heath started in 2001 and this year attracted about 10,000 people.
The organising committee said this brought problems with the cost of policing, security and clearing people from the site in the evening.
Stuart Gordon, chairman of the committee, said: "The day was a victim of its own success."
This year's event ran until 22:30 BST on Saturday, 13 July. Entry was free but visitors were asked to make donations to charity.
Mr Gordon said: "It's a big community day and I'm really sad it's come to this.
"With such vast crowds we were being asked to scale it back which is a very difficult thing to do.
"It's just too big for the village to cope with and it was a lot to do for a small team of volunteers."