East Anglia Children's Hospice: Baby grand piano donated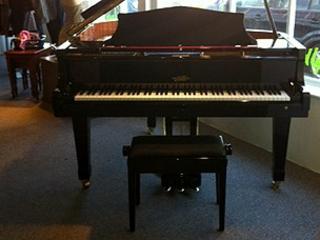 A baby grand piano donated to a charity shop in Suffolk is expected to raise thousands of pounds for the East Anglia's Children's Hospice (Each).
The 5ft (152cm) Moutrie grand piano, which is a size between a baby and full size grand, was given to the Each shop in Hadleigh by a local couple.
Retail manager Sarah Throssell said the piano had generated "a lot of interest" and should sell at "a very good price".
The charity has the Duchess of Cambridge as its patron.
It supports families and cares for children and young people with life-threatening conditions across Cambridgeshire, Essex, Norfolk and Suffolk.
The piano, imported from Germany with many major components from Germany, England and Japan, is finished in polished ebony and has a matching piano stool.