Glemsford post office raiders drenched with water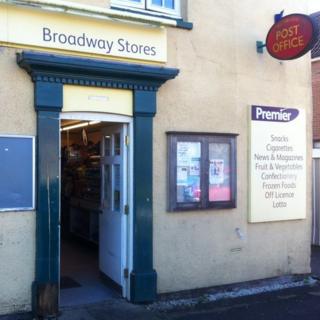 Robbers have been drenched with water and threatened with a hockey stick during a raid at a Suffolk village store and post office.
Two men ram-raided Broadway Stores in Glemsford using a stolen Toyota Hilux on Sunday morning and dragged the cash machine out on a rope.
The sub-postmaster at the store emptied a bucket on them from an upstairs window.
He confronted them with the stick and they left in another car.
Police said the offenders reversed the stolen car into the front of the store on Fair Green at about 04:30 GMT.
'Took a risk'
The postmaster's wife Tarla, who did not want to give her full name, said they were woken by the sound of the revving car and the banging on the shop door.
"My husband was brave, but you never know what's in some people's minds, so he took a risk and they left," she said.
"He dropped the water onto them but they didn't stop, so he went downstairs with the hockey stick.
"It will stay with me for a long period."
The store said the cash machine was empty, but there was some damage to stock.
The door has been temporarily fixed and the shop has reopened, but the owners said they were now planning to install bollards on the pavement outside.
Police said the suspects were wearing balaclavas and left the store in a second car, which was described as being dark in colour.