Stuffed animals and paintings stolen from Suffolk collector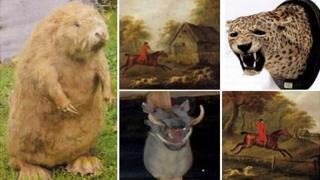 A collection of stuffed animals and 18th/19th Century paintings worth more than £10,000 have been stolen from a private collector in Suffolk.
The items, including a stuffed beaver, wildebeest, panther, warthog and iguana were stolen from an outbuilding at the property in the village of Bures.
The thieves also took paintings by artist John Nost Sartorius (1759-1828) a noted painter of horses and hunts.
The theft took place at about 23:30 GMT on Saturday, police have revealed.
Anyone with information about the crime is asked to call Suffolk Police.