Abseilers assess Ipswich's The Mill storm damage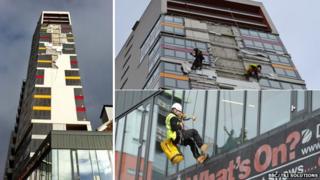 Abseilers have begun surveying the storm damage on Ipswich's tallest building.
Polystyrene tile cladding was ripped from one side of The Mill in Monday's strong gales.
T&I Solutions staff have been scaling the 22-storey waterfront building, which houses DanceEast and residential apartments.
College Road, on the other side of the tower, has reopened to traffic after being closed for more than a day.
Adam Brace, project manager for T&I, said: "We're making sure there's no loose membrane or polystyrene which we can either bring down to the ground or make sure it's fixed to the building.
"Polystyrene is cheap and easy to put up, but once one piece is lifted off, there's always the potential for [the rest] to peel off the building.
"It could be a loose piece of work up there, but there are 100 different things that could have caused it."
T&I says scaffolding will have to be added to the building, which is managed by EWS, for the actual repair work to be carried out.
Suffolk County Council closed College Street on the dockside one-way system on Monday morning due to a combination of debris falling from The Mill and the collapse of a wall and lamppost opposite Wolsey's Gate.
It reopened at about 15:00 GMT.