Dunwich Greyfriars site taken over by charitable trust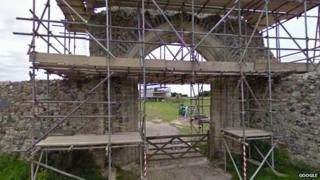 The 780-year-old ruins of a monastery on the Suffolk coast are being taken over by a group of local people.
Suffolk County Council is handing over the Dunwich Greyfriars monastery to a charitable trust as part of its policy of getting community groups to take over its recreation sites.
The council and English Heritage spent £250,000 restoring the 14-acre (six hectare) site in 2012.
The Dunwich Greyfriars Trust was formed by local residents to manage the site.
The move means the council will no longer be financially responsible for the Franciscan monastic ruins, which are on the cliff-top and form one of the oldest surviving buildings in Dunwich.
The village used to be a major port with a cathedral, but most of the settlement has fallen into the sea over the centuries.
Geoff Abell, chairman of the trust, said: "It is almost the last standing reminder of the importance of the medieval town, and we and our team of volunteers look forward to conserving and interpreting it for the enjoyment of the villagers and our many visitors."
The trust has about 60 members, who pay an annual £30 fee and volunteer with conservation work.
Funding for signage and tools comes from bodies such as Suffolk Coast and Heaths.
The council said its annual cost of running Greyfriars had been £2,000-£3,000.
Richard Smith, the council's cabinet member for the environment, said: "It is essential that we are able to find a way of protecting it and securing the investment it needs.
"The trust and the local people at the heart of it must be congratulated for what they have achieved.
"We are absolutely delighted that district councils, parish councils, community groups and private individuals have worked with us to ensure that these hugely important community assets are protected for local people and visitors to the county."
Greyfriars was one of 21 country parks which the county council agreed to transfer to other organisations to save £415,000 from its annual budget.