UK storm: Two hurt as bus blown over in Suffolk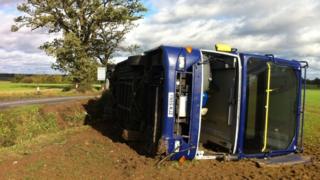 A double-decker bus, with two passengers on board, was blown over in high winds in Suffolk.
The number 91 service was on the A1071 in Hadleigh when it overturned and came to rest in a field near Coram Street at about 08:15 GMT.
The driver and one passenger was injured and the other passenger was unhurt.
The bus operator Beestons said other drivers would try to get to depots and further services would be cancelled.
Rob Thacker, who was in a van behind the bus, said: "There was a mighty gust of wind and the bus was just lifted up and dumped on its side.
"Its front wheels seemed to be up in the air.
"It was like watching something in slow-motion in the movies."
David Burrows, from Beestons, said: "The majority of our business operates in rural areas and we've taken the step of suspending all services as we just can't run.
"There are trees everywhere and our paramount interest is public safety."