Ipswich Pickwicks coffee shop painted advert 'will be preserved'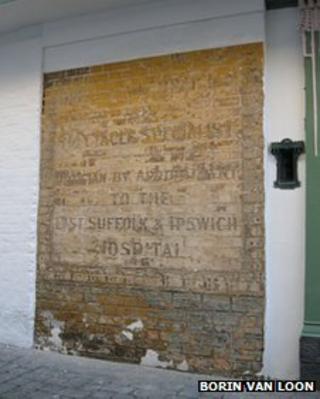 An ornate century-old painted sign for an optician's business found on the wall of an Ipswich coffee shop is to be protected by a plastic sheet.
The sign, on the wall of Pickwicks Coffee and Tea House in Dial Lane, was uncovered by decorators on Monday.
Jane Cooper, proprietor of the coffee shop, said the sign on the facade of the 16th Century building had generated "huge interest".
"We have to preserve it before it deteriorates," she said.
According to the History of Advertising Trust, these advertising signs painted on brickwork in the 19th and 20th Centuries are known as ghostsigns, as many have faded or disappeared.
The sign states: "Spectacle Specialist Optician By Appointment to East Suffolk and Ipswich Hospital".
It is painted in such a way that it appears the letters are chiselled into the brickwork.