Mary Roberts murder trial: Defendant 'was asked to carry knickers'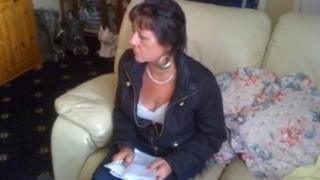 A man accused of murdering a woman at a pub in Suffolk has told a court she asked him to look after her knickers.
Mary Roberts was found at the rear of the St Edmunds Tavern, Bury St Edmunds, on 27 March. She had been strangled.
Andrew Ratcliffe, 56, who lived at Petch Close in Bury, denies her murder.
At Ipswich Crown Court, the prosecution said Mr Ratcliffe was "sexually obsessed" with 50-year-old Ms Roberts and had her underwear in his pocket when he was arrested later that day.
The defendant told the court that she used to carry a spare pair of knickers and that she had asked him to put them in his pocket earlier in the day.
Ms Roberts's body was found in the Tavern's outdoor smoking area, the jury heard.
Appearing in the witness box, Mr Ratcliffe confirmed she had been staying at the same flat as him in Petch Close for two weeks, along with another man.
'Not a scientist'
When asked by defence counsel Lindsay Cox if he was attracted to her, Mr Ratcliffe said he "liked her", that they had kissed twice but had not slept together.
The pair left the Tavern at 23:45 GMT on 26 March, the jury heard.
Mr Ratcliffe told the court he had been drunk and that after 10 minutes of having a "conversation" in the pub's outdoor smoking area, Ms Roberts had gone to the toilet and that was the last time he had seen her.
The court has been shown CCTV pictures of him having a cigarette at the front of the pub at about 03:20.
Mr Ratcliffe told the court that until that point he had been asleep on the ground in the "pitch black" smoking area.
When asked if he knew where Ms Roberts was, he said "I didn't" and told the jury that he "couldn't work out what had happened the night before".
When asked by the prosecuting counsel Andrew Jackson if he could explain why his DNA was on the dead woman's left nipple, the defendant said: "I'm not a scientist ... I can't."
The trial continues.