Pakefield cliff 'hanging' horse owner Sam Smith jailed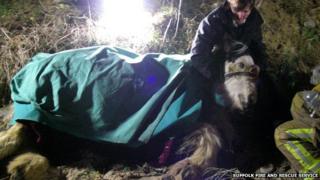 The owner of a horse has been jailed for eight weeks after the animal was found on a cliff face, hanging from a tether around its neck.
The piebald colt had been tethered close to a cliff in Pakefield, near Lowestoft, and had gone over the edge.
Sam Smith, 54, of Kessingland, Suffolk, admitted causing unnecessary suffering and failing to meet the horse's welfare needs over the incident in March.
He was jailed at Lowestoft Magistrates' Court on Wednesday.
'So upset'
Smith, of Romany Lane, was also banned from keeping animals for 15 years.
The RSPCA said one of its inspectors, Nicky Thorne, was called out to the horse near Pontins Holiday Park and managed to cut it down with her pocket knife.
In a six-hour rescue, the unconscious pony was rescued from the beach with help from the fire service and taken to the Norfolk-based Redwings Horse Sanctuary for treatment.
It died from a collapsed windpipe on arrival at the charity.
Ms Thorne said: "I was so upset; I kept telling the horse he would be the most famous and looked after horse in Suffolk if he pulled through.
"To lose him after six hours of trying to save him was awful.
"I am so grateful to the fire service, to the coastguard and to Redwings - everyone went above and beyond to try to save this horse's life.
"I called the horse Frank after Frank Sinatra as he had blue eyes and I will remember him for a long time."
Nic de Brauwere, senior veterinary surgeon at Redwings, said: "There is no doubt that young Frank suffered terribly, which is harrowing enough in itself.
"But what is most upsetting is the knowledge that the whole incident was completely unnecessary."