Framlingham's 'non-seafront' car park sign labelled 'daft'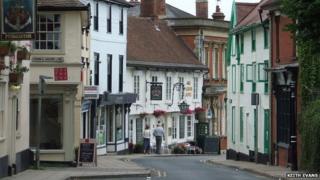 A sign telling drivers 12 miles (19km) from the coast the car park they are entering is "non-seafront" has been labelled "daft".
The sign has been put up by Suffolk Coastal District Council in the town of Framlingham.
The authority said it used a standard signage format which divided locations into "seafront" and "non seafront".
But Conservative councillor Christopher Hudson said: "We're all at sea with this sign".
Mr Hudson, who is the vice chairman of Suffolk County Council and a district councillor, said: "It is a bit daft.
"There's a serious side to this too and that is because we have never had parking charges in Framlingham.
"These machines are new. And the 'non seafront' sign, well it adds to the inanity of it all."
A spokesman for the county council admitted differentiating between "seafront" and "non-seafront" parking made more sense in coastal locations, such as Felixstowe.
But he added: "This is the standard format sign for long stay car parks as there is a difference in the cost of season tickets between sea front and non sea front long stay.
"Each tariff board in a pay and display car park also carries this information along with the tariff charge.
"People with season tickets need to know which car park they are valid for as the season ticket will specify sea or non sea front."