Wolves 'superfan' Peter Abbott given Superman-style welcome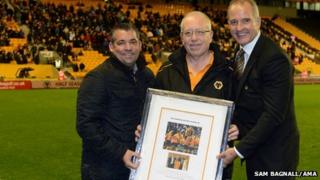 A Wolves fan who missed his first home game since 1976 to attend a family wedding was paraded on the pitch at Molineux to the theme from Superman, to thank him for his loyalty to the club.
Peter Abbott, from Ipswich, missed Saturday's match but was back in Wolverhampton for Tuesday's fixture.
The club presented him with a photograph from the match he missed.
A spokesman said: "Supporters are calling him 'Superfan' so the Superman film theme was very appropriate."
Mr Abbott has been a fan of League One Wolverhampton Wanderers since 1970 and the last home match he missed was against Tottenham on 16 March 1976.
'A bit bonkers'
But he chose to follow Saturday's 1-1 draw with Coventry by text, while attending the wedding of his stepdaughter in Suffolk.
When the club heard about Mr Abbott's unwavering support, and his regular 330-mile (530km) round trip to the Molineux ground, they sent top goal-scorer Steve "Bully" Bull along to the wedding as a surprise.
They then decided he should be presented to the crowd at Tuesday evening's home fixture against Oldham Athletic.
Mr Abbott was given a photograph of the Wolves goal he missed seeing on Saturday, and a picture with Steve Bull from the wedding.
Mr Abbott said although he was a well-known face in the stands, he was surprised by the club's tribute.
Speaking before the presentation, he said: "This has all been great fun and a bit amazing.
"It's snowballed since last week and I have to keep bringing myself down to Earth.
"Wolves is such a passion for me. It's not just about sitting there and watching the game - it's the whole works."
Mr Abbott also revealed he had only missed one away match since March 1976 - a game against Blackburn Rovers in May 1985 - which he failed to get to when his train broke down.
He added: "People in Wolverhampton probably think I'm a bit bonkers."