Suffolk Show's pet dog ban 'not the best idea', organisers admit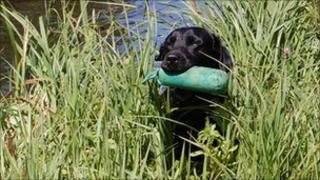 Pet dogs banned from the Suffolk Show for three years are to be allowed back after organisers said the decision was "not perhaps the best thing we did".
The Suffolk Agricultural Association (SAA) banned pets in 2011 citing hygiene issues caused by fouling.
The new honorary show director, Bill Baker, said he believed the ban had affected numbers and "excluded" some.
Comments about the ban had "filled my post bag", he said. Pet dogs will be admitted to the show from 2014.
'Right welfare'
"My job as the new show director is to come in and review where we're at, who comes to the show, and perhaps why some people feel excluded from it," Mr Baker said.
"One of the issues that's filled my post bag has been the dog ban and it was up to me to raise it with the show committee.
"We concluded that as long as we can offer all the right welfare such as shade and watering points, and the right hygiene facilities... it's better for the dog and the family to be together at the event."
When asked if the pet dog ban had affected numbers attending, he said: "I think I can probably admit that we did exclude some, and some comments were made to me which perhaps we didn't appreciate at the time, that to leave a dog at home alone for a long day [was not an option]."
The show attracts an average of 80,000 visitors.