Ipswich Pickwicks coffee shop decorator uncovers painted advert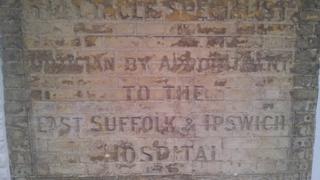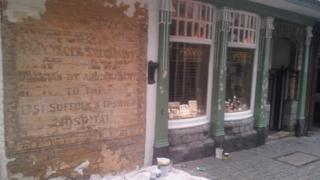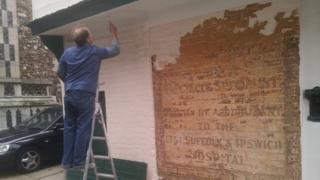 An ornate century-old painted sign for an optician's business has been discovered on the outside wall of a coffee shop in Ipswich.
The sign, on the wall of Pickwicks Coffee and Tea House in Dial Lane, was uncovered by decorators on Monday.
Jane Cooper, proprietor of the coffee shop, said she thought the sign on the facade of the 16th Century building was "very special".
"The more you look at it, the more you see," she said.
According to the History of Advertising Trust, these advertising signs painted on brickwork in the 19th and 20th centuries are known as ghostsigns, as many have faded or disappeared.
Ms Cooper said: "We were just freshening up the woodwork on the art nouveau facade when our marvellous decorator Mike Berriman noticed some peeling plasterwork.
"He worked on it all day Sunday and didn't tell me what he had found.
"I came to work on Monday and it took me a few seconds to realise what I was looking at."
Ms Cooper believes the sign says "Scarborow" at the top and then "Spectacle Specialist Optician By Appointment to East Suffolk and Ipswich Hospital" underneath.
"After 100 years the paintwork still gives a trompe l'oeil effect [an art technique that creates an optical illusion] which makes it look as though the letters are chiselled in," she said.
"Since we discovered it, everybody's been stopping, taking pictures, looking at it."
East Anglian historian Dr John Blatchly said that an advert in the 1904 Post Office Directory for Mr John C Scarborow in Dial Lane referred to him as an optician.
"The most distinguished shop front in Ipswich was built in 1912 in Dial Lane for John C Scarborow," said Dr Blatchly.
Ms Cooper said that the advertising sign painted on the bricks needed to be preserved and to be on show.
She has been looking at various conservation methods, including a graffiti-proof varnish and an acrylic screen.
Mike Taylor, conservation officer for Ipswich Borough Council, said a few years ago advertising signs such as these would have been painted over because they would not have been regarded as having any historical significance.
"We're lucky that Ms Cooper is interested in it and in its [historical] value and wants to preserve it.
"It's an interesting test case - I can't think of any other examples of signs at eye level being preserved."