Mary Roberts murder trial: Underwear 'in accused's pocket'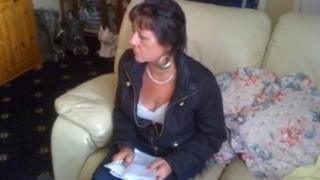 A man accused of murdering a 50-year-old woman at a Bury St Edmunds pub was arrested with her underwear in his pocket, a court has heard.
Mary Roberts was found at the rear of the St Edmunds Tavern on 27 March.
Andrew Ratcliffe, 56, who lived at Petch Close in Bury, denies murder at Ipswich Crown Court.
Outlining its case, the prosecution said Mr Ratcliffe was "sexually obsessed" with Mrs Roberts but his feelings were not reciprocated.
Andrew Jackson, prosecuting counsel, said Mrs Roberts and the defendant were the last customers to leave the Risbygate Street pub just before midnight on Tuesday, 26 March.
The prosecution said the pair went to the smoking area together and Mr Ratcliffe sexually assaulted and strangled her some time between midnight and 03:30 GMT.
Mrs Roberts's body was found by the landlady in the smoking area at the rear of the pub on Wednesday morning.
DNA evidence
Mr Jackson said CCTV footage, shown to the jury, showed Mr Ratcliffe smoking a cigarette at the front of the pub at 03:30 GMT before returning to the rear and crossing the bus station car park.
He then phoned an ambulance for himself and the prosecution said the jury would hear a recording of him telling the control room he had been attacked and had a head injury.
However, the West Suffolk Hospital could find no evidence of a head injury.
Police arrested him at his home later that day and found a pair of her knickers and her ring in his pocket, the court heard.
The prosecution said his DNA was found on the clothing she was wearing and her DNA was found in blood on his fingers.
Mr Jackson said the defendant told police he had woken up between two picnic tables at the rear of the pub and had not seen the dead woman.
Nigel Roberts, Mary's husband, appeared in the witness box and said she had been a "wonderful woman" who developed a drink problem after an accident smashed her hip.
He said the drink problem had got "worse and worse" and he had left her in December.
The trial continues.