Wolves fan Peter Abbott to be presented to match crowd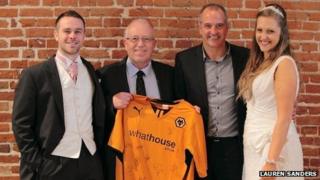 A Wolves fan who missed his first home game since 1976 to attend his stepdaughter's wedding is to be presented to the next home crowd to "mark his loyalty and support".
Peter Abbott, from Ipswich, missed Saturday's match but will be back in Wolverhampton for Tuesday's fixture.
The club sent its record goalscorer Steve Bull to the wedding as a surprise when it heard he would miss the match.
It now intends to make a presentation to him on the pitch at the next match.
Mr Abbott has been a fan of League One Wolverhampton Wanderers since 1970 and the last home match he missed was against Tottenham on 16 March 1976.
'Not miss a second'
He regularly makes the 330-mile (530km) round trip to the Molineux ground to see his team, but had to follow Saturday's 1-1 draw with Coventry by text, while attending the family wedding.
He said he was "gutted" when he first realised the wedding of stepdaughter Sarah Butler and Jonathan Liddle coincided with the game.
However, Wolves heard of his plight and decided to send Steve "Bully" Bull along with a signed shirt and programme from the match, to "soften the blow".
Mr Abbott said it was "a big surprise" and described Bull as "a legend".
Paul Richards, Wolves' supporter liaison officer, said: "We were only too happy to work with the sponsors... in getting Bully to attend the reception on Saturday, and are pleased it helped make Peter's day."
He added: "There are many [fans] with great stories about how many games they have attended, but I'm not sure any can match the achievement of Peter in not missing a home game in 37 years.
"We now want to mark his continuing loyalty and support of the club by making a presentation to him during half-time of Tuesday night's Oldham game.
"In typical Peter fashion, he has already warned us that after being away from Molineux on Saturday, he doesn't want to miss a single second of the game so we must have him back in his seat well in advance of the start of the second half."