Suffolk Family Carers: £525k appeal for new mobile centre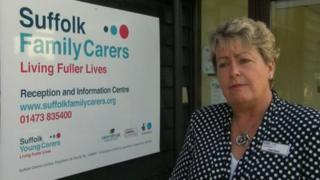 A Suffolk charity is appealing for money to buy a mobile centre after reporting a 17% rise in the number of people who care for a family member.
Suffolk Family Carers wants £525,000 for its Eight Days A Week Appeal it is running with BBC Radio Suffolk.
The charity said there were 77,745 people who identified themselves as carers in 2011, compared to 66,486 in 2001.
The mobile vehicle would be used to provide support in rural areas.
The charity estimated that there were a further 20,000 people who looked after a family member, but who did not identify themselves as carers.
It said it supported about 6,000 carers in any one six-month period.
'Isolation'
The charity said it offered help to carers so they could access training, advice and carer groups.
It could also arrange respite care so the person doing the caring can get some time off.
Jacqui Martin, chief executive of Suffolk Family Carers, said: "More people are being discharged from hospital earlier and families are being asked to do a lot more, and that includes children as well as adults.
"[A mobile centre] will mean we can arrive on their doorstep and work in partnership with others to provide health checks, information and support to carers to make their lives a little easier.
"Isolation is one of the major factors in carers' mental health and well-being so what we want to do is develop different sorts of help systems locally."
Peter Cook, managing editor of BBC Radio Suffolk, said: "I'm thrilled and proud that BBC Radio Suffolk is supporting Suffolk Family Carers and I'm certain our listeners will help us in reaching the target to ensure that more carers get the help they deserve."