HMP Blundeston report into closure remains confidential, says MP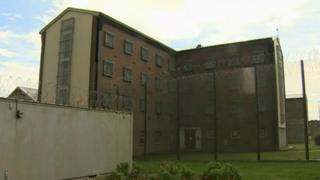 A report in to the closure of one of Suffolk's prisons is likely to remain confidential, the local MP said.
Last month, the government announced HMP Blundeston, near Lowestoft, will close by the end of the year as part of national prison reorganisation.
Peter Aldous, Conservative MP for Waveney, said he wanted the report evaluating the prison made public, but was told that would not happen.
The Prison Service said the decision was made after a "thorough assessment".
'Disrupt therapy'
Mr Aldous said he had concerns not all the information about recent building works were used in the evaluation and that Blundeston's training and rehabilitation role was not fully taken in to account.
He said: "I asked [the government] whether they could make public a copy of the evaluation for Blundeston, because transparency is the best way forward, but I was advised that wasn't possible because the evaluation was all wrapped-up with the analysis of other prisons and it would compromise [those prisons].
"There is great work done in the workshops and I've got concerns that prisoners' therapy will be disrupted as a result of the closure.
"I have seen the prisons minister subsequently and he has assured me he will be getting me a reply on that issue as soon as is practically possible."
Legal challenge
A Prison Service spokesman said: "The decision to close Blundeston was made following a thorough assessment by senior managers in the National Offender Management Service.
"It was based on a range of factors, including the suitability of the accommodation, and was not a reflection of the current performance of the prison or its staff."
The jail's Independent Monitoring Board (IMD) has called the decision "premature".
Meanwhile, a legal challenge related to the closure was being mounted by an inmate.
His solicitors have said he needed to be able to complete his course of rehabilitation without disruption and they may seek a judicial review of the way the decision to close Blundeston was made.